I love blog hops that have you link up to another blog and have you talk about a certain topic, similar to when I did Kelly's
Korner
"Show Us Your Life" a few weeks ago about my daily routine. Today I'm going to take part in The
Undomestic
Momma's
"Top 2 Tuesday" and the topic this week is the Top 2 Things I Can't Live Without. Hopefully this will let some of my readers get to know me a little better!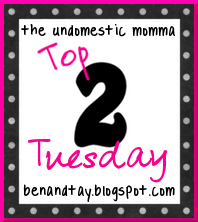 Besides the obvious things I can't live without like my family, friends, Todd, water, food, etc., the top 2 materialistic items I can't live without are:
1.
Lip Gloss
(specifically Victoria's Secret Beauty Rush lip gloss)
At any given time I can literally have 4-5 lip glosses in my purse as well as a few others on my kitchen counter and at my desk at work. I'm aware I'm seriously addicted to this stuff. My lips feel naked without that glossy feeling. I probably reapply multiple times
per hour
--I hate if I don't have it with me and I'm licking my lips because they feel dry.
2. My Blackberry


Now that I'm a Blackberry owner (as of 3 months ago), I now know why it's referred to as a "
Crackberry
." I don't know how I would survive some days at work without checking my email, surfing the
internet
, or checking
facebook
status updates (just kidding about
facebook
....kinda). Plus, it's obviously a phone and who can't live without that? My question though is how
did
people live without cell phones? I mean, I didn't have one until my freshman year of college but I can't remember what it was like before they were around.
And in reality, I also can't live without my running shoes.

Quick update about my Boston training: My leg is feeling about 75% but still a little tender on the "hot spot" so I'll probably take this whole week off from running again & maybe try to run easy next week. I've had 2 great cross training workouts yesterday & this morning. Yesterday was 1 hr "tempo" on the elliptical followed by lifting total body and this morning was 30 min of "hills" on the elliptical followed by 45 min spinning and core work. I'll post on Friday more specifics of my cross training workouts.